Discover more from The Art Of Fiber
So glad to have you! Every Friday, I'll share advice + inspiration to help you become a joyful, stress-free crafter.
Over 1,000 subscribers
INSIDE: crafting evolutions, yarn galore, swatching tribulations, an interview, mystery media + fluffy flowers.
There's something almost magical about the way our craft can reflect the changes going on around us and within us.
As the leaves are falling and the air's getting cooler in the northern hemisphere, I think it's the perfect time to talk about change and renewal.
It's not just about switching yarns and patterns, but also about how each stitch marks a moment of transformation.
I know I've gone through many changes in my fiber arts journey. Take knitting socks, for example. For many years, I didn't attempt them because I was too intimidated. They look so complicated. How could I ever make a pair?
So fast forward to when I was living in Romania, and I finally decided to learn how to knit a simple pair of socks.
I went through Kate Atherley 's course on Craftsy and she covered all the steps for knitting two socks at a time on circular knitting needles.
And I still wear those bed socks!
I made some for my Mum too as I learned the magic loop technique.
Since then, I've knitted some lovely and complicated designs like the Smaug Socks (for my Mum during a difficult time in her life) and my Pomatomus Socks.
None of that would've been possible if I hadn't taken a chance with trying something new. So I wanted to share a few tips for embracing change and discovering when you're crafting.
Upcycling: if you've got a project that didn't work out or old knits that need a refresh, turn that not-quite-right sweater into a cozy cushion cover or unravel a scarf and turn it into a brand new beanie.

Embrace the evolution of your skills: celebrate your growth by revisiting old projects to see how far you've come. Acknowledge that increased finesse in your stitches or the complexity of patterns you can now handle with ease.

Seasonal projects as milestones: mark each season with a signature project. This serves as a physical marker of time and personal growth and as the seasons change. So may your choice of materials and patterns.

Keep a crafting journal or diary: document not just patterns and techniques, but also your thoughts and feelings about each project. This practice not only helps in tracking progress but also in understanding your creative journey.

Community and sharing: Join a forum or crafting circle and share your experiences and your pieces with others. The community is a mirror that reflects our growth and supports our transformation, and we can all learn so much from each other.
And another question for you: how have your crafting preferences changed over time?
---
If you're looking to try a new fiber or stock up for a new project, Knit Picks and Crochet.com are having their annual Big Sale!
So that's up to 60% off on over 1000 of their yarns in each store.
I love Knit Picks yarns. I've knitted a few projects with different yarns they have. The range is wonderful and the quality is excellent for such an affordable price!
The Big Sale lasts until the end of the of November, so I highly recommend checking it out before it finishes.
For my True Nature Tee, I'm up to the simplest section of the stockinette body. It's a relief after the trials of the lace yoke! The simplicity of the stitch pattern underneath the lace makes it stand out.
For the Flow Tee project, I'm swatching with my usual method of English style knitting and using the 3.25 millimeter needles.
I'm happy with the fabric this is creating and I'll see how I go with reaching the gauge that's recommended in the pattern (26 stitches and 38 rows.) So I'm hopeful, but I'm also thinking I probably won't reach gauge. We'll see.
I've decided not to do any more trialing of the different methods to see if clockwise or anticlockwise makes a difference.
I just don't have the energy to tackle what I know will create more challenges in my knitting right now!
A trip down memory lane…
Having spent many years living in places that didn't have a local yarn store, it's such a treat for me to visit a brick-and-mortar yarn store.
On a past visit to Melbourne Australia, I went to Morris & Sons, located in one of the main shopping streets of the city center.
It's a delight to feel the different fibers and it's a feast for my eyes with the array of gorgeous colors. It's also wonderful to speak to the staff about all things knitting and ask for their advice.
I bought a mini skein of Cabrito by Manos De Uruguay, (80% kid mohair / 20% polyamide yarn.) The red and turquoise spoke to my choice of colors.
There was a knitted cowl on display in the same yarn, so I ended up knitting one of those myself! That was the Carrots from Mandrake pattern.
This year, I interviewed the owner of Morris & Sons, Joseph Morris, for my website, Knit Like Granny.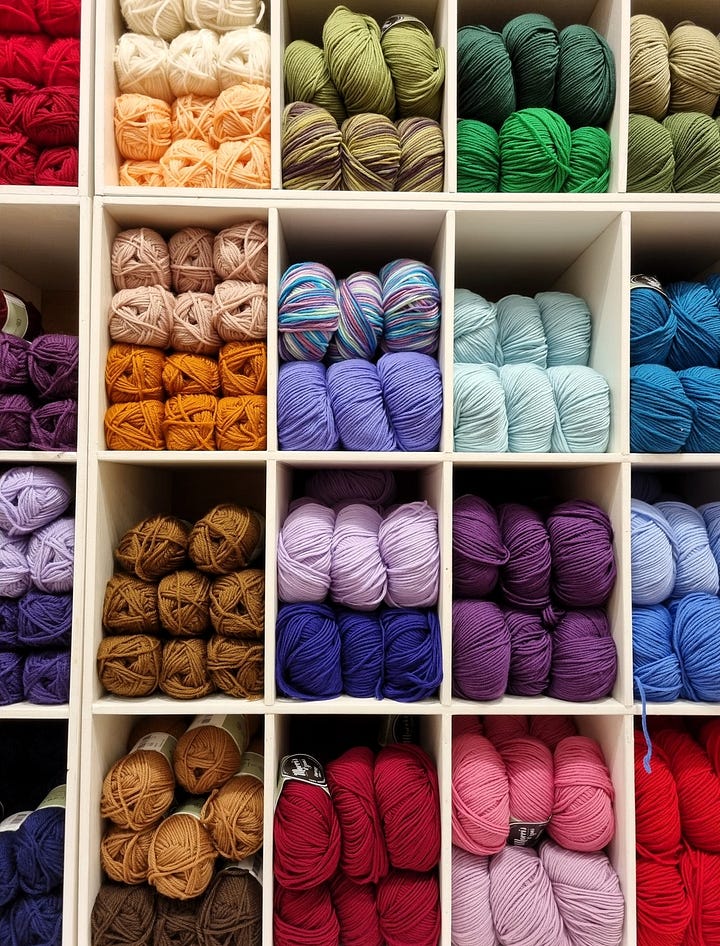 It was interesting to learn how this yarn store has evolved since 1973 and how it's managed to tackle challenging times in the craft industry.
What I've loved this week: reads, listens, visuals and gratitudes…
I'm loving the audiobooks of the Thursday Murder Club series by Richard Osman. The characters are witty and engaging, and the plot has twists and turns that keep you guessing about "whodunit."
I'm currently listening to The Bullet That Missed, the third book in the series.
There's four books in total so far, and I'll be a little disappointed when I finish that one! But I've really enjoyed everything that I've listened to.
Do you have any recommendations for a similar mystery series?
I'd love to hear about them!
I listened to a recent podcast about "Mimetic Desire" on The Imperfects.
Doctor Emily, the podcast's resident psychologist, discussed the idea that whether we like it or not, pure originality is impossible, as we're all influenced by someone! I was interested in the suggestion to critically assess these influences, to see if they're impacting our lives in a positive or negative way.
Then, based on that assessment, work on ditching the influences that are no longer serving you. Also, finding others that align with your beliefs and values that will make you a better human.
I'M enjoying a TV series called Only Murders in the Building. The trio of the quirky two older men and a young woman creates an often hilarious dynamic.
It's comical and it also touches on themes that give the characters more depth. The plots are fast paced and keep you guessing until the final episode.
In nature, I saw this beautiful yellow flowering gum on my walk the other day.
It's such a vibrant color!
As the leaves turn and fall in the northern hemisphere, I'm reminded of the ever-changing nature of life and craft. I'm thankful for the lessons learned through dropped stitches and redesigned projects.
Each one is a step in my crafting journey.
A thought for you to ponder this coming week…
In our quiet, crafting moments this week, let's ponder the transformative power of our practice. Each stitch is a testament to our ability to change, grow and become more than we were yesterday.
So, may you reflect on your crafting past with joy as every project has led to the abilities you have today.
How's your crafting going? Leave a comment or press reply!
More Fiber Fun
---
Until next week,
---
(Disclosure: Any purchases made through links may earn me a commission. Thanks for your support!)